Sergers

Embroidery

Sewing Machines
Triumph
The Triumph conquers serging in a way you never thought possible thanks to RevolutionAir threading. Thread the loopers with just the touch of a button and then thread the needles automatically with the touch of another button! You'll have more time to focus on your creativity than worrying about setting up your machine. The Triumph also has all the features you've come to expect from Baby Lock Sergers that make all your creative dreams a reality.
---
Acclaim
Your serging is about to receive a new level of critical Acclaim! The Baby Lock Acclaim features RevolutionAir™ Threading that threads the loopers with just the touch of a button and then threads the needles with the touch of another. You'll also serge tension-free with the Automatic Thread Delivery™ System (ATD) and the exclusive Wave Stitch will expand your creative options even further — making every one of your creations stand out like no other.
---
Victory
Ready to declare victory over threading your serger? Look no further than the Baby Lock Victory. This advanced home serger includes Jet-Air Threading™, which threads the lower loopers with the touch of a lever and Automatic Thread Delivery™ to thread in any order. Plus, Victory's presser foot features a 6mm height that makes serging on thicker fabrics a breeze!
---
Vibrant
This is it: the place where serging begins, and it leads you and your sewing skills to a dynamic future. Vibrant is the perfect introduction to the art and craft of serging, especially for garment sewers who want truly finished edges. With Vibrant, serging isn't scary – it's genuinely exciting!
Altair
Send your creativity into a new galaxy with the Baby Lock Altair. It makes realizing your sewing and embroidery projects a reality thanks to IQ Technology™ that allows you to wirelessly transfer images to your machine from your smart device using the IQ Intuition™ Positioning App for perfect design placement in the hoop or design creation in IQ™ Designer. Please read our privacy policy statement here
---
Aerial
Aerial takes your sewing and embroidery projects to new heights with a variety of advanced features you've come to expect from Baby Lock. It features IQ Technology™ that works with the machine's "brain" to make sewing and embroidery easier.
---
Aventura II
Discover new paths to creativity with the Baby Lock Aventura II sewing and embroidery machine. Powered by Baby Lock IQ Technology, The Aventura II makes every step easier. Create your own designs and load them onto the machine with two-way USB connectivity or any of the 181 of built-in designs and editing features.
---
Accord
If you want to step up your creativity to include embroidery, the new Baby Lock Accord fits the bill. This machine will suit your sensibility for creating even more elegant projects with embroidery. It delivers all the features you need: 141 built-in designs, 250 built-in stitches, advanced thread cutter, Quick-set bobbin and more. Move your sewing projects to the next level with Accord!
Crescendo
Get ready to make an unforgettable quilting composition! The Crescendo comes complete with a medley of features that help make every one of your quilts note-perfect. Plus, Baby Lock's IQ Technology creates a smart and efficient creative process that brings it all together.
---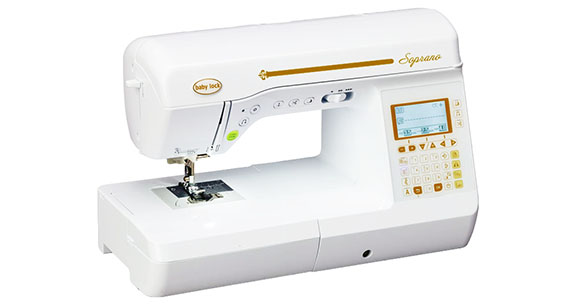 Soprano
Looking for an easier place to start quilting? You've found it with the Baby Lock Soprano. It's simple to get started and even easier to finish quickly thanks to the Soprano's user-friendly features. It also comes complete 300 built-in stitches and 16 feet, making sure you never miss a beat!
---
Brilliant
A sewing machine that's suited for any type of project? That's genuinely BRILLIANT! Part of the Baby Lock Genuine Collection, the Brilliant is ready to handle anything from garments to home décor to quilts with ease. Plus, it's packed with plenty of stitches and helpful, easy-to-use features, making your next creation absolutely brilliant!
---
Accomplish
If you want to make something, there's no reason you can't accomplish it with this machine! The Accomplish is built for speed and ready to help you make projects like quilts and purses, but it's also tough enough to sew on thicker fabrics for upholstery and costuming. Choose your next project and then plan it, design it, make it and accomplish it with your new favorite machine.
---
Zest
If you're ready to find a new sense of excitement through sewing, you'll find a great place to start with Zest! Whether you're looking to put together simple craft projects or need a basic travel machine, the Zest is exactly what you need.